We are delighted to highlight the PhD research at the University of Glasgow of Nicola Dickson who seeks to explore the use of arts-informed adult learning with young women who are survivors of childhood sexual abuse and sexual violence. She is interested in how engagement with arts-informed adult learning might impact on the perceived recovery journey of women who access a Glasgow-based charity for survivors of sexual abuse and homelessness.
The literature shows that for many women who experienced sexual abuse and trauma in childhood, the ability to learn during the formative years is impaired by the maltreatment experienced at home (Thomas and Hall 2008). It is also understood that the best single indicator of later engagement in education is earlier participation (Tuijnman, 1991). This study seeks therefore to explore survivors attitudes towards learning, skill development and the perceived ability to engage and contribute to arts-informed adult learning sessions.
By undertaking this research she hopes to explore two key questions:
How the provision of informal, community-based art sessions might allow potentially 'wounded' learners (Olsen 2008; Wojecki 2007) to (re)engage with adult education and
What role adult learning might have in the recovery journey of young womenwho are being supported to 'reconnect' (Herman 1992) following their traumatic earlier experiences of abuse.
Nicola has been involved in two very significant events recently that has showcased her work:

SGSSS Collaboration showcase – knowledge exchange and impact competition
This event took place on the 15thMay 2019 at the V&A in Dundee. She was one of ten PhD students from across Scotland to be shortlisted for the Scottish Graduate School of Social Sciences' (SGSSS) Knowledge Exchange and Research Impact competition. The Scottish Graduate School of Social Science is the UK's largest facilitator of funding, training and support for doctoral students in social science.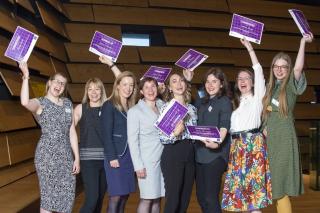 The showcase is an annual event which 'seeks to reflect the growing need for social science research to not only to make an original contribution to the academy, but also make a demonstrable contribution to society and to benefit individuals, organisations and/or nations'. 
She created a poster which demonstrated the impact on the personal capacity building of the adult learners involved in her research, from the development of visual art skills to the transformation of the participant's perceived abilities and self-worth. Being selected for this award was an enormous honour and she says understandable that she was delighted when her poster was commended by the judging panel.
To see more about the awards please visit the SGSSS website and for information about winners go to this link.
You can see more on twitter on #impactshowcase.

The SGSAH research showcase for innovation and creativity in doctoral research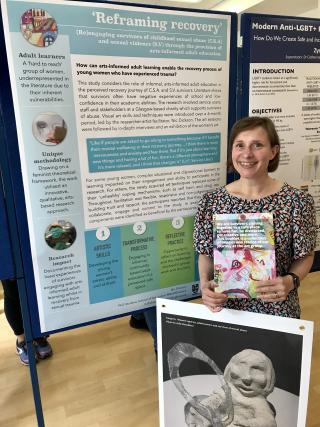 Last week she was at the Lighthouse in Glasgow, and included as one of twelve postgraduate students from across Scotland to make known her research at the Scottish Graduate School for Arts and Humanities (SGSAH) research showcase. She had applied for an award of £500 to disseminate her research findings and celebrate adult learners' art works and engagement with the research process.
With the award she created 10, size A0, double sided poster boards, each of which featured the research participant's artworks on one side, and process images and quotes from the fieldwork on the other.
These were extremely well received and will be displayed at other academic and community venues in the coming months.
She shared five of the boards with the School of Education during the Research and Teaching Matters week held twice per year. In Spring next year these poster boards will be displayed at the Glasgow Women's Library for 6 weeks.
If other venues/spaces could be suggested to further disseminate the works she would be very grateful to hear of opportunities.
She is currently tweeting on @NicMDickson and I am sure that you may wish to follow her.
---
References:
Olson, K. (2008). The Wounded Student. Educational Leadership, 65(6), 46–49. Retrieved from 
http://search.ebscohost.com.ezproxy.lib.gla.ac.uk/login.aspx?direct=true&db=tfh&AN=31926036&site=ehost-live
Herman, J. (1992). Trauma and recovery, the aftermath of violence – from domestic abuse to political terror.Basic Books. New York.
Thomas, S. P., & Hall, J. M. (2008). Life trajectories of female Child Abuse Survivors thriving in adulthood. Qualitative Health Research, 18(2), pp.149–166.
Tuijnman, A. (1991). Lifelong education: A test of the accumulation hypothesis. International Journal of Lifelong Education, 10(4), pp.275-285.
Wojecki, A. (2007). 'What's identity got to do with it, anyway?'Constructing adult learner identities in the workplace.Studies in the Education of Adults.39:2, pp. 168-182
Asics shoes | Patike – Nike Air Jordan, Premium, Retro Klasici, Sneakers , Iicf
Gallery images (click to enlarge):