Dr Renée Bleau, CPsychol, a CR&DALL associate, participated as the British Psychological Society (BPS) Division of Occupational Psychology (DOP), Scotland liaison coordinator for this year's BPS DOP Annual Conference held in Glasgow earlier this month (7-9 Jan 2015) at the Hilton in the City CentreThe DOP is the Division of the BPS which promotes the professional interests of practicing psychologists devoted to the psychology applied in workplace and organisational settings.  The DOP annual conference is one of the BPS's flagship conferences in their yearly calendar and the conference organising committee meet throughout the entire year to bring the conference to fruition each year in early January.  Dr Ian Bushnell at the University of Glasgow has been Chair of the BPS DOP for 2014 and just handed over the role to the new chair at the conference.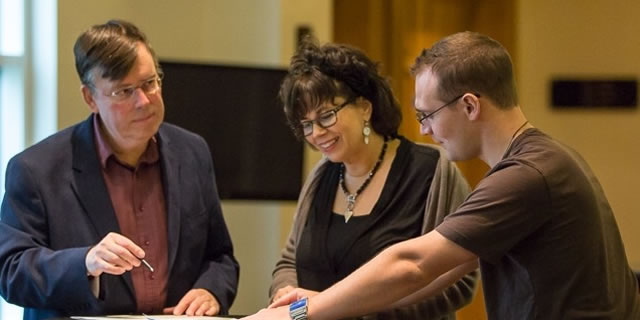 Renée Bleau, Jon Cox, Michael Towl (co-chairs of the conference organising committee)

The conference was attended by over 300 delegates and was recognised as a huge success with many commenting on the Scottish welcome and the social events were also well attended, in particular the civic reception sponsored by Glasgow City Council and the ceilidh band were in wonderful form.
A number of excellent keynotes were delivered, including by Nanette Fairley, Head of Corporate Psychology, Emirates Group and Helen Bevan, Chief Transformation Officer at the NHS.
A "Book of Abstracts" publication for the 2015 BPS DOP Annual Conference is featured below...
Nike sneakers | Men's Sneakers
Gallery images (click to enlarge):
Post date:
Wednesday, 21 January, 2015