As part of a project entitled, The role of universities in developing skills for Smart Cities, funded by the Scottish Funding Council from its contribution to the University of Glasgow's efforts to develop activities concerned with the Global Challenges Research Fund, a group of academics from the University of Glasgow (Dr Srabani Maitra, Professor Mike Osborne, Dr Seth Agbo) visited New Delhi to participate in a Roundtable hosted and organised by the Participatory Research in Asia (PRIA) organisation.
The Roundtable, co-organised by Glasgow's Centre for Research and Development in Adult and Lifelong Learning (CR&DALL), was well attended by academics from leading universities in India as well as practitioners and policy makers from the National Skill Development Council. The Glasgow team introduced work at the university linking smart and learning cities, particularly focussing on the need to facilitate opportunities for participatory and lifelong learning. A number of presentations were made by Indian colleagues such as Professor Rajesh Tandon, Founder-President, PRIA and UNESCO Co-Chair in Community Based Research, Dr. Kaustuv Kanti Bandyopadhyay, Director of PRIA and Professor Ashok Kumar from the School of Planning and Architecture, New Delhi focussing on the need for public engagement, political willingness and collaboration within smart cities. Ms. Soma Sharma from NSDC expanded on the skill policies that are being undertaken to train marginalised young people for smart cities. The presentations were followed by open discussions that addressed several challenges faced by universities in providing learning opportunities within smart cities. We are very grateful to all participants for sharing such thoughtful insights at the Roundtable.

All attendees at the seminar at PRIA New Delhi

 
Visit to Smart city of Jhansi, India
As part of the project The role of universities in developing skills for Smart Cities, Dr Srabani Maitra visited the smart city of Jhansi along with colleagues from the Participatory Research in Asia (PRIA) and Indian Institute of Management Calcutta. The team met academics from the Bundelkhand University, a public state university in Jhansi to explore how universities can contribute to an equitable learning ecosystem for the sustainable development and productive assimilation of marginalised youth populations living and working in the smart cities of India. The team also visited a community of sanitation workers who have been working closely with PRIA to plan and monitor basic sanitation services in their smart city. The interaction with the poor women and young people in Jhansi provided an opportunity to learn about effective engagement of citizens, particularly from the marginalised backgrounds in making smart cities truly participatory.
Dr Srabani Maitra
Lecturer, School of Education
University of Glasgow
Running sports | Jordan Ανδρικά • Summer SALE έως -50%
Gallery images (click to enlarge):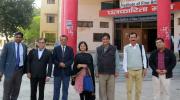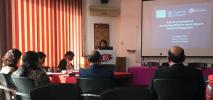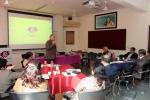 Post date:
Thursday, 20 December, 2018