The January issue of Cedefop's magazine Skillset and Match, the first of our 40th anniversary year, is available to read and download. It is packed with exclusive messages and interviews, features, news from EU Member States and information on new publications.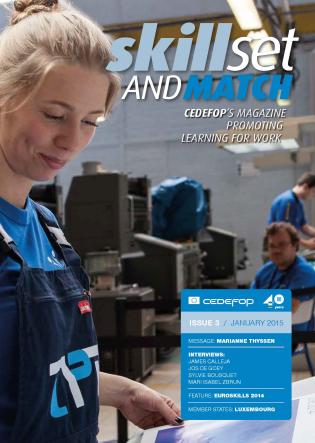 Highlights
Message: Commissioner for Employment, Social Affairs, Skills and Labour Mobility Marianne Thyssen
Interview: 'Old roots for  new routes' – Cedefop Director James Calleja talks about the agency's 40th anniversary and looks ahead to its future role
Feature: EuroSkills – win-win for young people and vocational training (including interviews with participants, delegates and WorldSkills Europe President Jos de Goey)
Interview: Cedefop's Sylvie Bousquet on ReferNet, Europe's network for vocational training
Member States: Luxembourg assesses vocational education and training initiatives
Feature: Accessible Europass.
The January 2015 edition is featured below and attached for download.
With kind regards,
Gerd Oskar Bausewein
Head of Area Communication, Information and Dissemination
latest Running Sneakers | Nike for Men