We are very pleased that eight representatives from the University of Glasgow were able to visit the University of Duhok in May 2023 under the aegis of Erasmus+ Institutional Mobility Programme. The delegation was led by Michael Osborne, Professor of Adult and Lifelong Learning, Director of CR&DALL (School of Education) and Director of PASCAL Europe, and also included Qammar Abbasi, Professor of Electronic & Nanoscale Engineering, Brian Barrett, Reader in Environmental Remote Sensing (School of Geographical & Earth Sciences), John Davies, Research Fellow and Associate Director of Arts Lab (College of Arts), Muhammad Imran, Professor of Communication Systems/Dean Transnational Engineering Education, Mary Ryan, International Development Research Manager (Research & Innovation Services),  Yulia Nesterova, Lecturer in International and Comparative Education (School of Education) and Kirstie Wild, Head of Research and Operations Strategy (College of Arts).
An extensive series of events during the visit focused on research collaboration, community engagement and research capacity strengthening and consisted of a series of visits with various departments, seminars, workshops and symposia.
Discussions and workshops were held with staff within the Colleges of  Administration, Agriculture, Basic Education, Economics, Engineering, Humanities, Languages, Medicine and Pharmacy, Physical Education,  Planning and Science on various topics including:
Research Support
Inter-disciplinary Research
Post-graduate Research
Research Methodologies, including creative and arts-based methods
Impact assessment of humanitarian de-mining using remote sensing
Youth, peace, and education
Funding Opportunities
Developing Strong Research Proposals
Project Development
External Partnership
Lectures were delivered on topics that included:
Approaches to Global History
Lifelong Learning and International Development
Social Justice and Inclusion in Education
Universities and Third Mission
Research Quality
Sustainable Healthcare solutions
Autonomous Systems and Connectivity
Environmental Pollution/ Landmines
A symposium, entitled City Learning and International Collaborations, was attended by staff and students from all colleges within the university, and included presentations on Smart Learning Cities and the role of the PASCAL Observatory (for which the University of Duhok hosts a PASCAL Asia Associate Director), Landscapes for International Collaboration, Project and External Partnership Development, and Peace and Human Rights.
These events were complemented by visits to various other parts of the university and to external sites of relevance to focused research areas and to external engagement. These included visits to the Humanities Peace Centre and the International Relations Office of the University of Duhok, the Kurdistan Mine Action Agency site and office, an Artists Collective, the City of Duhok's Director of Antiquities, the Sharya Refugee Camp, the Saint Hormizo Monastry, the mausoleum of the prophet, Nathan (Nabialah Nahoom), and the holiest, Lalish temple of the Yazidi people in Shikhan district, where we had the pleasure of an audience with Meer Asmat Tahseen Beg.
These events in and around Duhok were organised by Professor Kamal Ketuly and Assistant Prof.  Sizar Mohammad Dosky. We are also indebted to the many members of staff of the University of Duhok who hosted us during our stay including:
 
University President – Assistant Professor Dawood Sulaiman Atrushi
Vice-President for Administrative and Financial Affairs - Assistant Prof. Dilshad Abdul Jabbar Haleem
Vice-President for Scientific Affairs– Assistant Professor Lokman Hadi Haassan
Dean of the College of Engineering  - Professor James Hassado Haido
Dean College of Medicine – Assistant Professor Dildar Haji Musa
Deputy Head of Medical Chemistry, College of Medicine - Assistant Professor Ali Hussein
Director of International Relations – Professor Rund Hammoudi, and her staff
This visit was complemented by further meetings at Salahaddin University and Cihan University in Erbil and a meeting with the Deputy Minister of Higher Education and Scientific Research, Prof. Dr. Abdulfattah Abdulrazzaq Mahmood and his representatives, all facilitated by Dr Karzan Karim, Senior Advisor to the Minister of Education and Higher Education. This included Dr Rozhen Kamal Mohammed-Amin, Sulaimania Polytechnic University who is a Co-Investigator of the Nahrein Network, initiative supporting interdisciplinary research on sustainable development of Iraqi history and heritage.
Following the visit a range of options for continued collaboration between the University of Duhok and the University of Glasgow, including hosting a symposium on religion, culture and peacebuilding in Duhok, joint supervisions of PhD students, and access to facilities for staff and students in Glasgow. More broadly at a regional level there were also discussions about developing learning cities, working with the PASCAL Observatory, and the training of students in Glasgow. We very much welcome further collaboration in the future.
Gallery images (click to enlarge):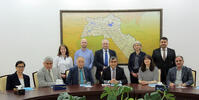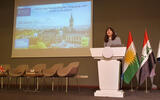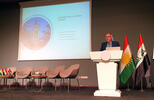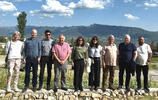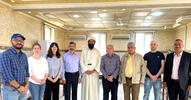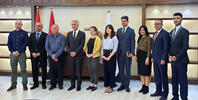 Post date:
Thursday, 24 August, 2023