Where does theory come from in educational research – and how is it operationalised in diverse disciplinary and professional contexts? This volume examines the pedagogic significance of theory in the work of nine pre- to post-doctoral scholars, whose narratives transport us across wide-ranging fields of inquiry: from Irigaray on mothering in academe to Jamison and engineering education in Denmark; from Te Whāriki in a New Zealand kindergarten to Confucianism in contemporary China.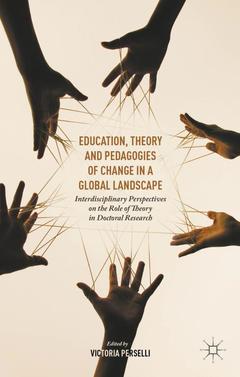 Drawing on multiple theoretical perspectives that include Bhabha, Butler, Qvortrup, Rogoff, Saukko, Steinberg and Žižek, and using a variety of representational media, the book provides numerous opportunities for debating theory and its interrelations within the research process, as illustrated by each of these projects. In this way, new possibilities for being, thinking, feeling, doing and making in higher education are proposed, characterised as pedagogies of change.
Education, Theory and Pedagogies of Change in a Global Landscape
Interdisciplinary Perspectives on the Role of Theory in Doctoral Research
Edited By Victoria Perselli
Special Offer - 30% off with the flyer featured below.
Nike footwear | Nike SB