The workshop for the project "Remote Healthcare System for Diabetes Management" is a digital hands-on remotely delivered interactive session, with the purpose of disseminating the  work on Diabetes management conducted by Dr. Qammer H. Abbasi (Project Principal investigator), Reader at James Watt School of Engineering, University of Glasgow, and the  team at the, James Watt School of Engineering, University of Glasgow (Muhammad Ali Imran, Hasan Abbas, Sajjad Hussain, Ahmed Zoha), the Institute of Cardiovascular & Medical Sciences (Naveed Sattar, Professor of Metabolic Medicine) and Lahore University of Management Sciences (LUMS) (Naveed ul Hassan (LUMS PI), Ali Hussain, Muhammad Farooq and Muhammad Omar).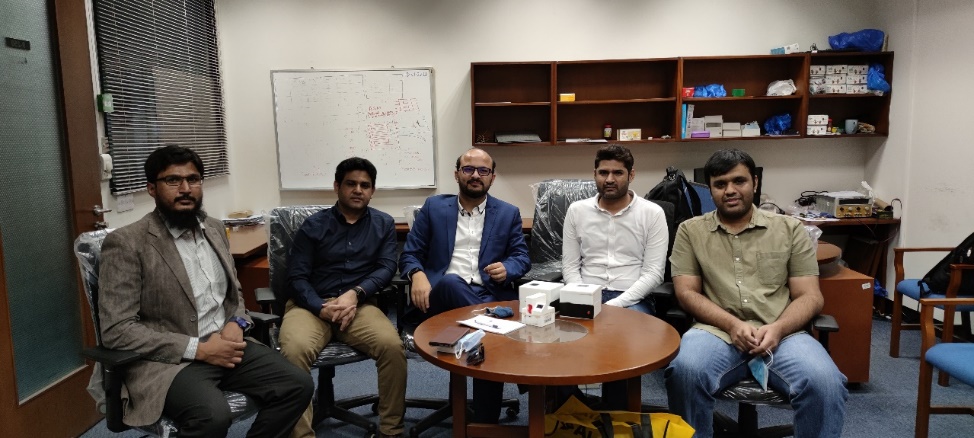 Dr Abbasi 's((PI) in the middle) engineering delivery team. The Picture was taken just before workshop in Pakistan.
The workshop was held in two schools in Pakistan and is based on the collaborative work of Dr Abbasi and Dr Rodolico, lecturer in Science Education at the School of Education (SoE), University of Glasgow (UoG). The intention was to disseminate the successful outcomes of Dr Abassi's teamwork through an educational route by connecting engineering with the future generations. Pupils at the involved schools were engaged with an active learning pedagogy-based lesson planned by Dr Rodolico and her collaborator Miss Aiasha Khan, probationer teacher (PGDE Biology class 2020-21 at the SoE, UoG) and supported by both UoG and LUMS engineers team.
The workshop structure was informed by a recent internationalization study conducted by Dr Rodolico and collaborators https://doi.org/10.25416/NTR.16606220 . The core feature was the delivery of contents in both languages Urdu and English and the contextualization in both countries' societies within an ethos of mutual enrichment and respect. Miss Khan fluency in both languages was instrumental for the implementation of this important aspect.
The workshop was made of 2 sessions both based on active learning but with a focus on discussion activity on part 1, adapted from adapted from SSERC, a Scottish local authority shared service that supports practical STEM activities (Let's talk about diabetes), and an experimental learning on the refraction of light caused by a glucose solution on part 2 facilitated by the engineers on campus. It began with an introduction of the main topic by Prof. Muhammad Ali Imran, Dean Glasgow College UESTC and Dr. Abbasi. Then, it was handed over to Dr. Rodolico and Ms. Khan who led the 2 sessions.
The main goal was to raise awareness of the impact that diabetes has on society and patients in Pakistan as well as in other parts of the world such as United Kingdom (UK) with a final focus on how individuals affected by diabetes, could effectively make regular measurements of glucose level in a timely and non-invasively manner.

Dr Rodolico and Miss Khan delivering the workshop online
Workshop details
Part 1: The discussion first began by exploring students' previous knowledge of diabetes. This was followed by a comprehensive discussion on diabetes including: types of diabetes, diabetes' symptoms and importance of insulin's function and regulation in the body. The discussion was opened to cross-questioning and had demonstrations in pictorial and video form with a student-centered approach. Pupils were given some facts on diabetes & obesity and their impact on the health and economy of UK. Students were also presented with some dilemmas related to diabetes & society and were asked for their opinions on the matter. This all was concluded with a plenary which allowed students to express their final views and successfully achieve the Intended learning outcomes for this first part of the workshop.  
Part 2: Students were shown a video with the traditional and more invasive way to measuring glucose. Then, they were asked to carry out a simple experiment by analysing the effect of glucose solution on light refraction as one of the main physical principals of optics underpinned by the new glucose measurement device built by Dr Abassi's group. Students observed the bending of light when it travels through a sugar solution as compared to air. This experiment showed that sugar solution has the property to change the angle of incident light and thus this property can be used to measure blood glucose non-invasively. With this foundation finally, students were shown the non-invasive glucose monitoring device developed in this project, gaining a full understanding not only of its benefit but also of its engineering design. After that, the workshop was concluded with a final homework on researching how much Diabetes is impacting on society in Pakistan and how important is the work of Engineering and Education to support innovation in this field. Some glimpses of workshop are shown below.
Gallery images (click to enlarge):
Post date:
Tuesday, 9 November, 2021