Many will have met Alan in person, and many more through his extensive writing. For several decades he was a key figure globally on issues related to literacy and non-formal education, lifelong learning and adult education and their relationship to transformation and development.
He had a distinguished University career and kept on teaching, researching and guiding dissertations for generations of students. He was a Honorary Professor of the University of Nottingham, and also close Reading and East Anglia. At the same time he stayed close to civil society locally and globally.
His books on teaching adults, ethnogrpahic literacy or non-formal education as an iceberg where really enlightening, influential on many debates and will continue to do so. 
My most recent exchange with him was last month only. While I was researching on community learning centres in the context of CONFINTEA VII when I came across something he wrote a few years back based on his longstanding relationsship to Tanzania and his evaluations of the Folk Development Colleges. He brought his findings together with earlier work on non-formal education and the the potential of CLC as local hubs for the implementaion of the SDG [see below, together with a small selection of other important references]. I congratulated him for a remarkable attempt. He wrote back full of thanks, and at the same time mentioned he was not feeling well.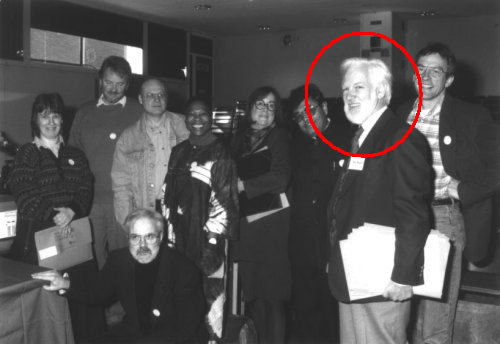 I do not remember when I met him first, but the photo [right] shows Alan in front of amongst others the late Dr Om Shrivastava, Professor Paul Belanger and myself during the Uppingham Seminar in 1992. Through this series of seminars he created an open discourse  and participatory atmosphere between all those in from a diversity looking at gender, generation and geography.  http://www.uppinghamseminars.co.uk/ 
He followed much too soon on Professor Lalage Bown - both were chanpions of UK based adult learning and education with a strong international orientation.
---------
Alan Rogers (2019) Second-generation non-formal education and the sustainable development goals: operationalising the SDGs through community learning centres, International Journal of Lifelong Education, 38:5, 515-526, DOI: 10.1080/02601370.2019.1636893
Papers of Alan Rogers (1933-2022), Special Professor in Adult Education at The University of Nottingham; 1973-1983
ResearchGate: Alan Rogers, University of East Anglia | UEA · School of Education and Lifelong Learning