On December 2-3 I attended the Annual Meeting of the National Strategies for Lifelong Learning Hub of ASEM in Bangkok, Thailand at the Sukhothai Thammathirat Open University.  This international network included researchers, practitioners and policy makers from 11 Asian and European countries.  Delegates from all countries made presentations on issues such as employability and skills development, community learning, learning cities, and the impact and outcome of lifelong learning.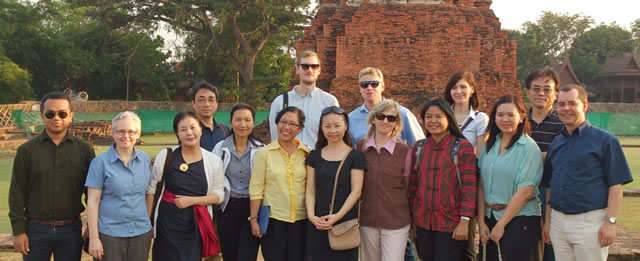 The ASEM LLL Hub, established in 2005, is an official network of  Asian and European higher education institutions, working and learning together to achieve excellence in comparative research on lifelong learning, to offer research-based education policy recommendations, and to develop mutual understanding between Asia and Europe. The University of Glasgow is a member.
The keynote speaker Dr. Sombat Suwannappitak, former Deputy Permanent Secretary of the Ministry of Education in Thailand, gave a wonderful overview of lifelong learning strategies in Thailand.  Of great interest to me were the robust state policies on the delivery and recognition of non-formal and informal learning, influenced by Canadian Prior Learning Assessment and Recognition (PLAR) and Australian Recognition of Prior Learning (RPL) initiatives. Non-formal and informal learning in Thailand has a strong infrastructure, with Community Learning Centres (CLC) in every district of the country.  We were able to visit three CLCs, witnessing first hand how lifelong learning policies are put into practice.
Lifelong learning policies tied in with community learning and learning city initiatives are being implemented all across Asia and Europe. This network provides an important forum for comparative research on and analysis of national lifelong learning strategies, promoting dialogue on policy, research and practice.
Many thanks to the organisers, Dr. Min Han and Haixia Xu (National Centre for Education Development Research, China), and Professor Sumalee Sungsri of the host institution, Sukhothai Thammathirat Open University,  for making the meeting so successful. 
url clone | NIKE